Vancouver's Business District
The second iteration of the Cloud Swing was commissioned by Vancouver's Downtown BIA as a semi permanent installation. The cloud is made out of 18,000 pingpong balls hand stitched onto an alluminium frame.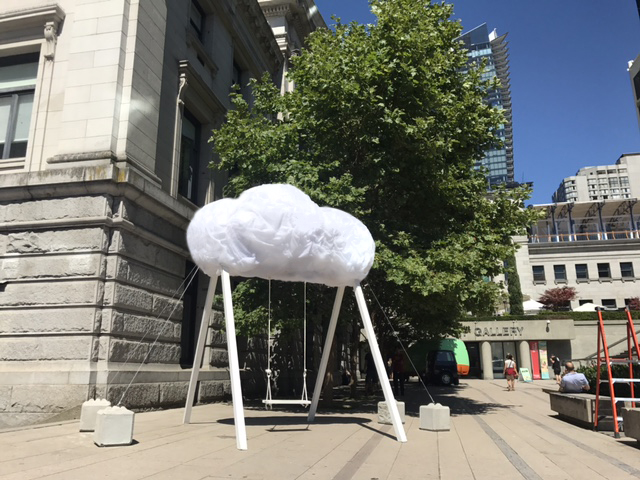 Vancouver Art Gallery/ Jim Deva Plaza
Original project funded by the City of Vancouver for the month of pride in 2017
This piece uses play as a tool for empathy. For the creation of the Cloud Swing I recorded stories from members of Vancouver's queer community, including refugees and Two-Spirit people and included recordings by key queer advocates like James Baldwin and Silvia Rivera. The stories were mixed in with sounds of rain and thunder, and lights inside the cloud simulated lightning at night. The cloud was installed at the Vancouver Art Gallery and later moved to Jim Deva Plaza in Vancouver's West End. As thousands of people interacted with the piece they heard stories and ideas that were different from their own.
The piece encouraged people to play, share and listen.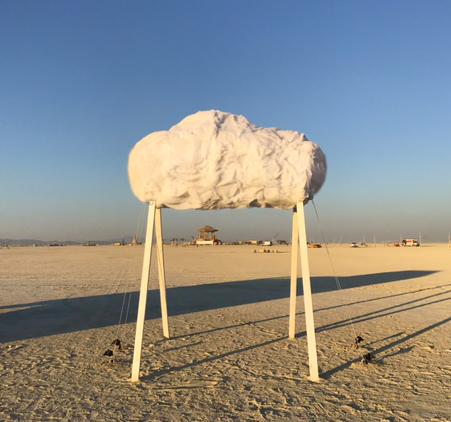 After pride month was over, the cloud was packed up and taken to Burning Man where the sound of rain falling was welcomed by festival goers in the hot Nevada dessert.